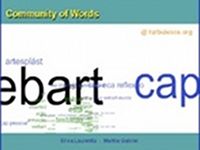 Community of Words
The Community of Words is a 3D environment governed by the Theory of Emergence. Users are invited to add their own words to the system thereby becoming part of the "community of words " they can interact with and navigate the environment, and observe the actions of other participants.
One of the system's main characteristics is the feedback phenomenon that happens while one navigates the 3D environment: the words already present in the space influence other participants, who may interact with them and create new texts in response to them. Participant characteristics such as language, slang, or culture form completely different communities of words and, subsequently, the words that emerge within them.
BIOGRAPHIES
SILVIA LAURENTIZ: Professor in the department of Fine Arts at the School of Communication and Arts, University of SÑo Paulo, Laurentiz holds a PhD in Communication and Semiotics and a Masters Degree in Multimedia. She is also a graphics and multimedia designer an artist who works in virtual reality, multimedia and web art an art and new technologies researcher and a speaker at art and technology conferences.
MARTHA CARRER CRUZ GABRIEL: An engineer with postgraduate studies in Marketing and Graphic Design, Gabriel's Masters Degree in Art & Technology is in progress at the University of SÑo Paulo. Web/MM artist, professor at the Business School and Digital Design Program of the Universidade Anhembi Morumbi, and director of technology at New Media Developers (NMD), Gabriel is the winner of 11 Internet Best Awards from 1998 to 2005 and a highly acclaimed speaker.
"Turbulence Spotlight: "Community of Words" by Silvia Laurentiz and Martha CC Gabriel"
http://turbulence.org/spotlight/cm/community-of-words.htm