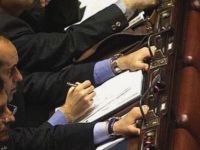 DemoKino
This textual and pictorial reader is more than just documentation of an art project. It combines contributions by theorists (Antonio Caronia, Marina Grzinic, Leonardo Kovacevic, Bojana Kunst, Tomislav Medak, Petar Milat and Aldo Milohnic) and a photocomic created by Dejan Dragosavac Ruta from the original project's texts and visuals to reflect on the proposition of Davide Grassi's DemoKino – Virtual Biopolitical Agora, an anti-entertainment interactive movie that develops according to the audience members' vote.
Inspired in part by the "pianisti" scandal in the Italian Parliament when a number of senators were filmed voting for their absent colleagues via the electronic voting system, DemoKino is a virtual parliament which, through filmic parables, following one protagonist's rethinking of the ethical dilemmas placed before us, provides the spectators-come-voters/participants with the opportunity to decide on issues that are, paradoxically, becoming the essence of modern politics: the questions of life – abortion, cloning, therapeutic cloning, water privatization, copyleft, euthanasia, genetically modified organisms, same sex marriage.
This reader was initiated not with an idea to reformat the artistic project to print form, or to approach it solely from a critical or analytical perspective, but with an idea to contextualize, to reframe the wider cultural and political environment DemoKino appears in, providing a theoretical, artistic and social context.
DemoKino – Virtual Biopolitical Agora
Edited by Ivana Ivkovic and Davide Grassi
Published by Maska, Institute for publishing, production and education
(www.maska.si) and Aksioma, Institute for Contemporary Arts
(www.aksioma.org)