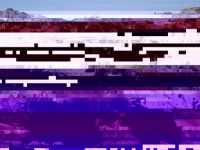 Glitch Browser
Glitch Browser is an online browser that glitches and aberrates all the images on the web pages requested by users. It makes lovely discolorations, dislocations, pixellations & color bands infect the original image & invariably beautify content through this intentional corruption. The Glitch Browser is a collaborative artwork developed between Dimitre Lima, Tony Scott and Iman Moradi for New Langton Arts, San Francisco.
[ITALIAN BELOW]
Glitch Browser è un programma di navigazione on line capace di rielaborare, danneggiandone la superficie, le immagini presenti su una pagina web. Dopo storiche sperimentazioni di browser alternativi come Web Stalker o Riot ecco un nuovo progetto. Un browser che consente di navigare con immagini remixate dal software.
Glitch Browser è un progetto nato dalla collaborazione di Dimitre Lima (DMTR), Tony Scott (BEFLIX) e Iman Moradi (Organised) per la New Langton Arts Gallery di San Francisco. Digitando l'indirizzo web nell'apposito spazio è possibile visualizzare le pagine con gli stessi contenuti ma con immagini diverse, corrotte dal software: scolorate, scomposte, pixelate.
(licia mandrioli)