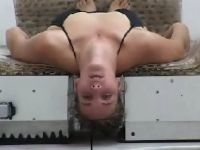 Life Support Machine
Life Support Machine is an interactive installation by italian artist Luca Gemma. This work promotes the concept and the experience of a therapeutic inter-relationship between people and machines. Thousands of fish scales layered between plastic sheeting rub together driven by a motorized mechanism that expresses recorded waveforms.
[ITALIAN BELOW]
L'opera di Luca Gemma (1961, vive a Bologna) Life Support Machine, inclusa nell'ultima edizione di Ars Electronica e premiata al concorso Life 7.0, propone un nuovo paradigma nel rapporto uomo-macchina. L'effetto del movimento ondeggiante e il sonoro acquatico della sua macchina, produce relax e distensione mentale.
La macchina, con la quale l'utente viene fisicamente a contatto, gestisce, tramite un meccanismo motorizzato, il movimento di grandi "ali" plastificate. Lo sfregamento di migliaia di squame di pesce, fissate sulle facciate delle plastiche, è provocato meccanicamente in modo da produrre il suono della risacca. Il suono delle onde che rifrangono sulla spiaggia è reso attraverso tre movimenti comandati dal software appositamente creato. I fenomeni che producono le cause del suono sono stati scomposti in dati successivamente digitalizzati in modo da essere compresi dal computer. Ma è un materiale organico che produce il suono percepito, grazie ad un approccio conoscitivo che è ancora analogico.
Un'installazione ibrida che fonde organico e tecnologico, analogico e digitale, mixando e confondendo sensorialità e astrazione concettuale.
http://www.aec.at/en/festival2005
http://www.fundacion.telefonica.com/at/vida/paginas/v7/emachine.html
http://www.8lab.it/lucagemma.html