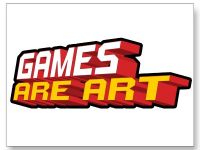 Games are art
Games are Art is a new resource about videogame culture. Founded by Santiago Siri, young but already experienced game developer, the website is conceived as a platform for sharing ideas. Gamers, developers, designers, artists, theorists are invited to join the community.
[ITALIAN BELOW]
Games are Art è un nuovo sito web dedicato alla discussione sulla cultura del videogame. Fondato da Santiago Siri, giovanissimo sviluppatore di giochi elettronici argentino (ma con giá diversi anni di carriera alle spalle), il sito si propone come una piattaforma di riflessione sulla natura creativa del videogame e sui sui sviluppi futuri.
Il sito mette a disposizione della comunitá di giocatori, sviluppatori, teorici, artisti o semplici curiosi una serie di strumenti per la discussione e lo scambio di idee e informazioni. Oltre al blog, dove vengono pubblicate news e segnalazioni, sono aperte anche due sezioni specifiche dedicate ai giochi indipendenti e ai giochi "artistici", una sezione riservata alla teoria e un forum. Gadgets con il logo del sito e altre grafiche "videoludiche" sono disponibili nell'e-store.