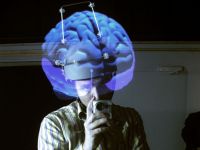 Brain Mirror
Brain Mirror is an interactive experience where the image of the visitors brain appears mixed with his/her mirror image, using natural head movement as an interface to explore volumetric visuals of the human brain. BrainMirror is a Swedish-Hungarian co production by Adam Somlai-Fischer, Bengt Sjölén and Danil Lundbâck.
[ITALIAN BELOW]
Brain Mirror è un'installazione interattiva grazie alla quale l'immagine del cervello del visitatore viene sovrapposta alla sua immagine allo specchio. In questo modo, i movimenti naturali della testa vengono usati come interfaccia per esplorare dinamicamente e in 3D la forma del cervello umano. Gli autori sono svedesi e ungheresi: Adam Somlai-Fischer, Bengt Sjölén e Danil Lundbâck.
L'obiettivo di Brain Mirror è quello di creare un'interfaccia semplice e d'impatto, che possa essere compresa ed utilizzata da chiunque senza bisogno di comprendere complicati meccanismi di interazione. Il software di tracking, collegato ad un elmetto indossabile, tiene traccia del movimento della testa e lo riproduce su uno specchio trasparente applicato ad un modello tridimensionale del cervello. L'installazione, oltre ad essere dotata di un forte impatto visivo, contiene anche numerosi spunti per la costruzione dei nuovi modelli didattici del futuro.