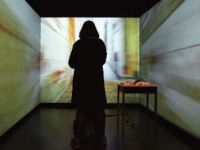 Refresh!
Finalmente una conferenza internazionale si propone di analizzare la storia delle arti mediali. Partendo dall'invenzione della fotografia e passando per il cinema, la radio, la tv, il video, fino alle ricerche più recenti nel campo della telematica e della genetica. Refresh! – First International Conference on the Histories of Media Art, Science and Technology, si terrá a Banff, in Canada dal 28 settembre al 3 ottobre.
I prodotti che nascono dal rapporto tra arte e tecnologia -una liason di vecchia data e non solo una tendenza modaiola degli ultimi anni- raramente vengono studiati e contestualizzati con serietà e piglio scientifico. Ancora meno con un approccio storico, storico-artistico e comparativo. Negli ultimi anni, fortunatamente, abbiamo visto nascere alcune esperienze tese al recupero di questa lacuna. Basti pensare, ad esempio all'ottimo lavoro (su web e su carta) di MedienKunstNetz. Ora, una conferenza internazionale si propone di fare il punto sulle ricerche nel campo della storia delle arti tecnologiche, sulla loro presenza all'interno delle istutuzioni museali e universitarie e sui metodi di conservazione, esposizione e archiviazione. I maggiori esperti mondiali saranno presenti, tra i tanti: Oliver Grau, Erkki Huhtamo, Andreas Brockmann, Dieter Daniels, Sara Cook, Steve Dietz, Peter Weibel, Christian Paul, Jon Ippolito, Rudolf Frieling, Mark Tribe, Jasia Reichardt.
Per chi non potrá essere presente, è disponibile un servizio di streaming.
www.mediaarthistory.org
www.banffcentre.ca
www.medienkunstnetz.de