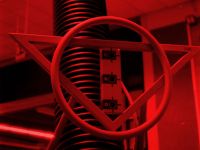 02L/Digital Smog 7
Digital Smog 7 è una performance multimediale. Si presenta come un sofisticato crossmix di suono arte e tecnologia, corrosivo nella forma, scultoreo nell'impatto visivo. Raggruppa un numero d'interfacce e triggers di diversa natura dislocate in una vasta area strutturata per il grande pubblico.
02L si orienta, con Digital Smog 7, verso la costituzione di un "free statement of expression", attraverso la composizione di uno show multimediale interattivo, dove libertà d'uso e interazione del pubblico rappresentino l'essenza propositiva del "possibile to do". Come gli hackers, i ravers, e i tecnoletterati, 02L guarda verso le frontiere della nuova "mind-independence", tramite la concretizzazione di una area autonoma, in cui artista e spettatore possano entrare in simbiosi, attraverso la potenza della sperimentazione elettronica. Contesti interattivi per angeli tecnologici, attraverso il proliferare di un nuovo creativo panorama sonoro.
Lo spettacolo sarà ad Arezzo Wave il 15 luglio 2005.