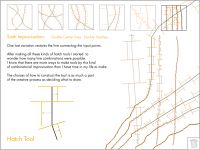 Klee as software
Da tempo aveva dimostrato di avere tutte le qualità per una carriera nel mondo dell'arte mainstream: una ricerca che si relaziona con alcune correnti storiche dell'arte americana, come il minimalismo un lavoro sul software molto attento alle sue possibilità di oggettivazione (e di commercializzazione), buoni rapporti con le istituzioni, e con alcune gallerie di punta. A 42 anni, John F. Simon Jr.sembra finalmente avercela fatta.
ll Whitney Museum of American Art ha annunciato per ottobre la pubblicazione del suo ultimo lavoro, Mobility Agents: A Computational Sketchbook. Il progetto sarà ospitato da Artport, la gallery online del museo, e nello stesso tempo sará acquistabile come libro + CD. Simon ha già un'opera (un pannello LCD) nella collezione del Whitney, e per aprile ha in programma una mostra presso la prestigiosa Sandra Gering Gallery di New York  mentre ancora ad ottobre (il 14) inaugurerà la sua prima personale museale, presso l'Alexandria Museum of Art di Alexandria, Louisiana.
Quanto a Mobility Agents, si tratta, secondo le parole di Christiane Paul, di un software interattivo che "invita gli utenti a esplorare le variabili base del disegno attraverso il computer. Ogni segno sullo schermo è il risultato di molte decisioni creative e può essere una forma di espressione fortemente individuale". Il lavoro nasce dalla riflessione sui Diari di Klee e sui suoi disegni, che Simon considera "diagrammi di oggetti in movimento e forze invisibili che chiedono di essere attivate".
(domenico quaranta)