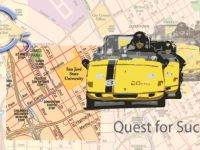 Il paesaggio e l'informazione
La C5 corporation porta avanti, sin dal 2001, una complessa ricerca sul tema del paesaggio utilizzando le potenzialità dei GIS (Geographic Information Systems). Tutti i progetti sono pensati per una durata complessiva di cinque anni e indagano sulla dimensione estetica dei sistemi di visualizzazione dell'informazione.
Le mappature messe a punto dal collettivo puntano l'attenzione sulla mutazione del concetto stesso di paesaggio, in un momento storico che vede la transizione da un'estetica della rappresentazione ad una basata sull'informazione e le sue possibili interfacce. All'interno di The C5 Landscape Initiative, un progetto vasto articolato in tre parti principali (The Analogous Landscape: Rim of Fire, The Perfect View e The Other Path) è stato sviluppato uno strumento chiamato GPS Media Player, in grado di riunire, in un'unica interfaccia, tutta la documentazione delle esplorazioni fisiche del territorio compiute dai partecipanti al progetto. Foto, video, testi e itinerari, tutto tenuto sotto traccia grazie al GPS. Il Media Player è stato selezionato come pagina iniziale del mese dal portale Artport, sito di ricerca sulla Net Art del Whitney Museum di New York.