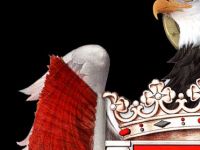 The influencers 2005
The Influencers, festival dedicato ai "corti circuiti tra arte e comunicazione" e all'inttrattenimento radicale, si svolgerà anche quest'anno a Barcellona, presso il Centro di Cultura Contemporanea. Una tre giorni (7-8-9 aprile) densa di incontri con i protagonisti più interessanti della scena attivista internazionale.
Figlio del progetto Digital is Not Analog, partito nel 2000 dall'italiana Bologna, questo appuntamento cercherà di far luce sulle tecniche usate da artisti, operatori culturali e attivisti di tutto il mondo per intervenire sul flusso quotidiano della comunicazione. Tra gli invitati: lo storico collettivo Adbusters, gli statunitensi Yes Men, autori di riuscitissime beffe mediatiche ai danni del presidente Bush e della sua amministrazione, e lo sloveno Marko Peljan.