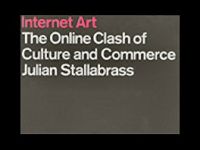 Internet Art. The Online Clash of Culture and Commerce
Lo sviluppo del Web e dei browser dalla metá degli anni Novanta hanno permesso agli artisti di tutto il mondo di misurarsi con questo nuovo mezzo di comunicazione. Stallbrass riunisce nel termine Internet Art l'insieme delle pratiche artistiche che indagano, manipolano e decostruiscono le potenzialità del Web. Il Web permette agli artisti di bypassare le istituzioni artistiche e avere un contatto diretto con il pubblico.
L'Internet Art solleva questioni fondamentali sulla definizione e valore – sia estetico che economico – dell'oggetto artistico, sul ruolo dell'arte e le sue relazioni con il pubblico, sul futuro del sistema dell'arte.
Il libro partendo dalla termine "new art" attraversa un range di tematiche – dalla struttura di internet all'arte come informazione, dal net formalismo alla spazialità e temporalità, dall'interattività all'aspetto commerciale, dall'attivismo politico al ruolo delle istituzioni artistiche – per giungere alla definizione di Internet Art e delle sue potenzialità di trasformazione.
(damiana luzzi)
Julian Stallabrass, Internet Art. The Online Clash of Culture and Commerce, Tate Publishing, Londra, 2003. ƒ 23,87