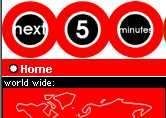 Next 5 Minutes
La quarta edizione dello storico meeting ha aperto ieri ad Amsterdam in forma di Osservatorio Mediatico Pubblico temporaneo (Temporary Media Laboratory -TML, in breve). Per dieci giorni infatti, il Centro per la rappresentazione visiva dell'immigrazione e dell'identità culturale "Imagine IC" (Imagine, Identity and Culture) ospiterà una serie di workshop, conferenze e presentazioni che verranno prodotte e trasmesse in Rete direttamente dalla sede a Southeast Amsterdam.
Sul tema del concetto-guida di Tactical Media, l'obiettivo della manifestazione è quello di portare in primo piano il punto di vista di chi, normalmente, non occupa un posto nel parlamento dell'informazione.
I temi dei TML spazieranno dall'ambiente virtuale alle net radio e alle reti wireless, intesi come strumenti per la diffusione e la connessione degli immigrati con la loro cultura di appartenenza, mentre i workshop saranno utili corsi sul fai da te tecnologico per promuovere il cambiamento sociale attraverso le potenzialità comunicative dei mezzi d'informazione.
Con al timone gruppi di esperti in comunicazione, gruppi mediatici e artisti (Ambient TV, ASCII, De Balie, Harwood, dine.org, Waag Society, RAZO, NYU Center for Media, Culture and History, Gender Changers Academy, expertbase.net, ghetto.ru, Paradox, Salto e altri) le porte saranno aperte per la durata della manifestazione e sono invitati tutti a partecipare direttamente, se qualcuno si trovasse ad Amsetrdam, e on line -per chi sta altrove. Comune denominatore dei requisiti per partecipare (o esservi interessato): informazione è potere.
L'intero programma, insomma, è volto a indagare sulla metodologia dell'informazione (mass)-mediatica per ascoltare e vedere broadcast un genuino resoconto dei fatti e scoprire come stanno le cose al di là dell'informazione "mediata", dal verbo mediare, trovare un compromesso – e accettarlo.
Next Five Minutes ha tutte le premesse per informare direttamente: un festival che unisce l'esperienza dell'attivismo politico a quella delle arti visive fino alla comunicazione elettronica spinta. Il TML di Amsterdam, è il primo appuntamenti di una serie interconnessa in tutto il mondo e continuerà a New York, Dehli, Sydney, Mosca, Berlino, Barcellona e in Sud America fino all'ultima tappa prevista ad Amsterdam entro Maggio 2003: un festival di "tatical media making" con contributi da tutto il mondo.
(francesca d'antona)