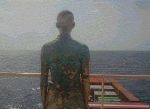 Sea in motion
Sea in motion è un'opera online di Ole B. Nielsen, artista danese che vive e lavora a Copenaghen. Nielsen ha studiato alla Royal Danish Akademi of Fine Arts e ha iniziato dedicandosi alla scultura e alla fotografia per avvicinarsi poi alla video arte ed alla net.art. Sea in motion è una sorta di love-story di ricerca reciproca, monitorata da un satellite e visibile solo attraverso il website omonimo.
Un uomo e una donna vagano attraverso gli oceani a bordo di due navi diverse in realtà sono due sculture di bronzo realizzate dall'artista, che vivono una propria vita grazie agli utenti del sito. Il progetto si apre con un'introduzione che mostra gli spostamenti che le due navi hanno effettuato dal settembre 2000 al settembre 2001, dopodiché si possono visualizzare le posizioni attuali delle due navi e guardare i video relativi al loro viaggio.
Il messaggio che accoglie nel sito i visitatori è il seguente: "A man and a woman are roaming the oceans on separate ships. Loneliness is the engine. The course is destiny. The ocean is hope. SeaInMotion is a satellite monitored love story". Secondo le dichiarazione dell'artista Sea in motion vuole essere un monumento all'amore.
(raffaella albamonte siciliano)