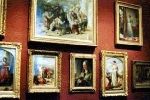 Digital Responses
Il Victoria and Albert Museum di Londra ha inaugurato il 16 maggio un'esposizione di lavori di artisti contemporanei che utilizzano le tecnologie digitali. La mostra durerà circa un anno, fino al 9 marzo 2003, e le opere sono ispirate ad oggetti o temi della collezione permanente del museo. Ogni mese Digital Responses cambia e vengono esposti nuovi pezzi di uno o due artisti secondo questo calendario:
13 giugno – 14 luglio 2002 Shelagh Cluett/Raz Barfield
18 luglio – 11 agosto 2002 Tom Corby and Gavin Baily
15 agosto – 8 settembre 2002 Darrell Viner
12 settembre – 13 ottobre2002 Chris Meigh-Andrews/Charlotte Hodes
Per affiancare l'evento è stato messo a punto un sito internet (in collaborazione con gli italiani Keepthinking, Gallery Systems, lo staff del museo e gli artisti stessi), realizzato utilizzando la tecnologia Flash integrata con un database. Le informazioni in esso contenute sono generate e aggiornate utilizzando il database centrale di gestione delle collezioni del museo.
Anche il sito viene aggiornato mensilmente: una linea temporale nella schermata iniziale mostra il progresso della mostra. Ogni artista ha inoltre studiato un Artpath, un percorso attraverso il Museo, con lo scopo di mostrare al visitatore oggetti di particolare interesse e ispirazione per il proprio lavoro. Le immagini e le informazioni riguardo tali oggetti di nuovo derivano dal database centrale del museo.
(raffaella albamonte siciliano)