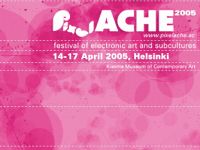 Pixelache & Lovebytes
Tempo di festival. Inaugurano infatti domani due dei più noti e vivaci eventi di arti elettroniche del Vecchio Continente. PixelAche 2005, che avrà luogo fino al 17 di aprile presso il Kiasma Museum of Contemporary Art di Helsinki, si intitola quest'anno Dot Org Boom, versione no-profit del più noto Dot Com Boom, con ironico riferimento alla bolla della new-economy. Il nuovo boom, indagato attraverso concerti, mostre, dibattiti e performance di vario genere, si riferisce al proliferare dei fenomeni open source, alle iniziative open content, alla crescita dell'informazione dal basso e dei network attivisti in giro per il mondo. Le sezioni del festival sono cinque: VJ Culture and Audiovisual Performances, Experimental Interaction and Electronics, Interactive & Participatory Cinema e particle/wave hybrid radio workshop.
L'inglese Lovebytes, aperto in numerose sedi a Sheffield fino al 16 aprile, presenta anch'esso un programma fitto e variegato. Fatto di musica dal vivo, film, video e mostre, alcune delle quali resteranno aperte anche oltre la fine del festival. Tra i numerosi appuntamenti segnaliamo la proiezione integrale della trilogia di Peter Greenaway The Tuls Luper Suitcases, accompagnata da un workshop del regista, e una sezione dedicata al video digitale underground dei paesi asiatici.