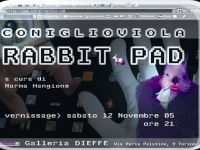 Rabbit Pad
Rabbit Pad exhibition is an occasion to celebrate ConiglioViola's new website. The show will be open in Turin at Dieffe Gallery until 6th of January 2006 and offers a complete tour inside Coniglioviola's magic world. The gallery space has become an extension of the virtual one, in a sort of isolate island -far from the real world-, a "carpet" where visitors can relax and enjoy the artist's work. Like a giant mouse-pad (should we call it a rabbit-pad?).
[ITALIAN BELOW]
La mostra è l'occasione per celebrare il restyling del sito ufficiale di ConiglioViola, il duo torinese reduce dal successo ottenuto a Napoli alla XII Biennale dei Giovani Artisti dell'Europa e del Mediterraneo- che integra ed esplora i diversi mezzi digitali: dalla net.art al videoclip, dalla pittura digitale alla musica elettronica, dal web design alla fotografia, fino al teatro multimediale. Al tempo stesso Rabbit Pad ribadisce l'indissolubile legame tra ConiglioViola e la net.art: l'ambito in cui l'erede digitale del BianConiglio ha iniziato la sua ricerca artistica e che interpreta come reale creazione di spazi e, soprattutto, come strumento per un rinnovamento estetico, una rifondazione dell'arte in quanto fenomeno capace di "arrivare a tutti".
Nel sito è possibile trovare informazioni sulla ConiglioViola-philosophy e sugli eventi passati e futuri, ma anche i progetti creati per il web, come La meditazione di Yolanda, ironico esperimento di meditazione on-line, e i videoclip, come quelli del progetto Recuperate le Vostre Radici Quadrate, tributo elettronico alle dive della musica italiana anni '80.
Coniglioviola.com è un mondo altro, un sito magico dove poter "assaggiare" la nuova estetica del collettivo artistico più irriverente ed eccentrico del momento. Lo spazio della galleria sarà trasformato in una protesi dello spazio virtuale, in una sorta di isola lontana dal mondo reale, un "tappeto", come un grande mouse-pad, anzi rabbit-pad , dove rilassarsi e godersi il viaggio nel mondo surreale di ConiglioViola.
CONIGLIOVIOLA
RABBIT PAD
mostra personale a cura di Norma Mangione
dal 12 novembre al 6 gennaio 2006
Galleria Dieffe
via di Porta Palatina, 9
Torino (quadrilatero romano)
www.coniglioviola.com